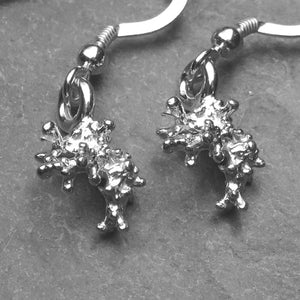 Coral Beach Earrings - 154ED
Skye's famous Coral Beach near Dunvegan (just over the Loch from Skye Silver) has many small wonders of shells and other sea creatures. The tiny pieces of coral which make up the beach have wonderful shapes and we made castings of some of these in silver. This is one. A really unique memento for those of you who have made the trip to Coral Beach.
See our Seashore range for other Coral Beach pieces.
Size: 10x9 mm
What people say about us:
"My wife will be thrilled with the special gift!" - MG, UK
"My mum is so pleased with the necklace!" - LL, Germany
"Pendant has arrived in plenty of time for my wife's birthday, it's beautiful." - CK, USA
"Just received my necklace. Love it, absolutely beautiful." - JA, UK
"The pendant arrived today! It's beautiful, thank you so much." - BM, USA
"Your service has been exemplary." - ME, UK
"The items arrived today, thank you! They are all looking great." - RZ, Germany
"Earrings received today and love them." - JK, UK
"The medallions are wonderful and the packaging was top notch." - SB, USA
"The necklace arrived and it's awesome, my wife loves it." - TB, UK
"The pendant has been received and my wife is delighted with it. Prompt service and delivery has been excellent." - FM, UK
"I am very pleased with the beauty and quality of my purchases." - AH, UK
"Wow, such a stunning piece, absolutely gorgeous!" - LM, Canada
"I received the jewellery on Friday and I'm already wearing it, I love your pieces!" - IK, Switzerland
"Received the necklace, it's lovely and I think my mum will love it too." - TT, UK
"It arrived yesterday and my wife was thrilled with it!" - JN, UK
"Your products look beautiful on your website." - JC, UK
"The swan pendant arrived yesterday - it is even lovelier than in the photo." - HP, Austria
"I gave my wife the I Will Love You Forever pendant yesterday. She loved it." - JA, USA
"The pendant arrived this morning. It is lovely and my wife is very pleased." - AP, UK
"Many thanks for my very beautiful Kells Serpent brooch - I'm absolutely delighted with it!" - AS, UK
"The earrings arrived yesterday and they are beautiful!" - JM, UK
"The earrings arrived this morning. Thank you, they are beautiful." - HW, Australia
"I have just received my beautiful thistle necklace. I am delighted with it." - PQ, UK
"I must tell you how pleased we were with the pieces. Your service has been exceptional." - ER, UK
"Thistle pendant arrived today right on schedule. It's perfect, and looks fantastic." - JW, UK
"All arrived safely and my wife loves it." - NG, UK
"My thistle necklace has arrived safely and looks lovely." - EG, UK
"Many thanks for your personal and attentive reply." - LK, Netherlands
Regular price
£74.00 (Includes 20% UK VAT) Sale