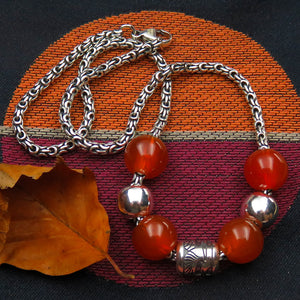 Colours of Autumn necklace
Our Madeira chain and bead range combine in this beautiful new necklace.
16" (40cm) with 4 carnelian gemstone beads (12mm), 2 plain beads and your own choice of central bead.
To select your bead, please visit our Beads Range, choose a bead from B806-B841, then enter your choice in the "Enter any special instructions" box on the shopping cart page.
What people say about us:
"My wife will be thrilled with the special gift!" - MG, UK
"My mum is so pleased with the necklace!" - LL, Germany
"Pendant has arrived in plenty of time for my wife's birthday, it's beautiful." - CK, USA
"Just received my necklace. Love it, absolutely beautiful." - JA, UK
"The pendant arrived today! It's beautiful, thank you so much." - BM, USA
"Your service has been exemplary." - ME, UK
"The items arrived today, thank you! They are all looking great." - RZ, Germany
"Earrings received today and love them." - JK, UK
"The medallions are wonderful and the packaging was top notch." - SB, USA
"The necklace arrived and it's awesome, my wife loves it." - TB, UK
"The pendant has been received and my wife is delighted with it. Prompt service and delivery has been excellent." - FM, UK
"I am very pleased with the beauty and quality of my purchases." - AH, UK
"Wow, such a stunning piece, absolutely gorgeous!" - LM, Canada
"I received the jewellery on Friday and I'm already wearing it, I love your pieces!" - IK, Switzerland
"Received the necklace, it's lovely and I think my mum will love it too." - TT, UK
"It arrived yesterday and my wife was thrilled with it!" - JN, UK
"Your products look beautiful on your website." - JC, UK
"The swan pendant arrived yesterday - it is even lovelier than in the photo." - HP, Austria
"I gave my wife the I Will Love You Forever pendant yesterday. She loved it." - JA, USA
"The pendant arrived this morning. It is lovely and my wife is very pleased." - AP, UK
"Many thanks for my very beautiful Kells Serpent brooch - I'm absolutely delighted with it!" - AS, UK
"The earrings arrived yesterday and they are beautiful!" - JM, UK
"The earrings arrived this morning. Thank you, they are beautiful." - HW, Australia
"I have just received my beautiful thistle necklace. I am delighted with it." - PQ, UK
"I must tell you how pleased we were with the pieces. Your service has been exceptional." - ER, UK
"Thistle pendant arrived today right on schedule. It's perfect, and looks fantastic." - JW, UK
"All arrived safely and my wife loves it." - NG, UK
"My thistle necklace has arrived safely and looks lovely." - EG, UK
"Many thanks for your personal and attentive reply." - LK, Netherlands
Regular price
£128.00 (Includes 20% UK VAT) Sale